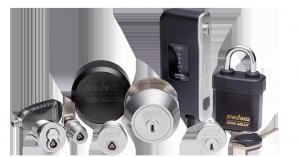 Medeco High Security Locks
Ask yourself:  Who Has The Keys to Your Facility? Do You Know Who Has Opened Your Locks? Do You Mind If Your Keys Are Copied?
Medeco designed its high-security product line with pick and drill resistance features that block the things thieves do to gain entry. When a thief sees Medeco locks on your interior or exterior doors, file cabinets, gates and other secure areas, he will likely decide it isn't worth the risk.
Medeco's patented key control systems make it virtually impossible for someone to get a copy of your keys without your permission. This low-cost solution protects against a potential liability for your facility.
Medeco has pioneered extremely large Master Key systems through our exclusive use of angled cuts on our keys, and slider combination. With millions of combinations, Medeco can accommodate even the largest installations.
Medeco Key Control Systems are installed to prevent the unauthorization of key duplicating. Medeco Keys and Medeco Locks are High Security Door Hardware. Medeco Key Control Systems can be installed on any type of door or lock. Security begins with Medeco Key Control, in a key control system, patent protection ensures that only designated people can duplicate keys,which effectively controls how many keys are issued and to whom keys are distributed.
Company located in Pompano Beach, Fl. and Fort Lauderdale. We have been located in Pompano Beach and offered our Home and Condo Security Services since 1972, we service all of Broward County (Ft. Lauderdale) as well as Palm Beach (Boca Raton) and Dade county (Miami). Our Home and Condo Security staff can respond quickly to areas like Pompano Beach, Margate, Coconut Creek, Coral Springs, Deerfield Beach, Ft. Lauderdale, Boca Raton, Lauderhill, North Lauderdale, Plantation, Tamarac, Sunrise and Weston. Other areas are Penbrook Pines, Hollywood, Delray Beach and Miramar. 
We are located at 1280 S. Powerline Rd. # 9 Pompano Beach, FL 33069 and 109 NW 5th Avenue Fort Lauderdale, FL 33311.